Easy & Complete Control at a Touch
Tango Touch is a new range of large interactive display solutions. Classroom, meeting room, a conference room or an office?
Interactive products are increasingly standard equipment.
Tango Touch offers a wide range of mobile and fixed interactive solutions to suit every purpose and any situation. All of the products are designed and manufactured to the highest quality.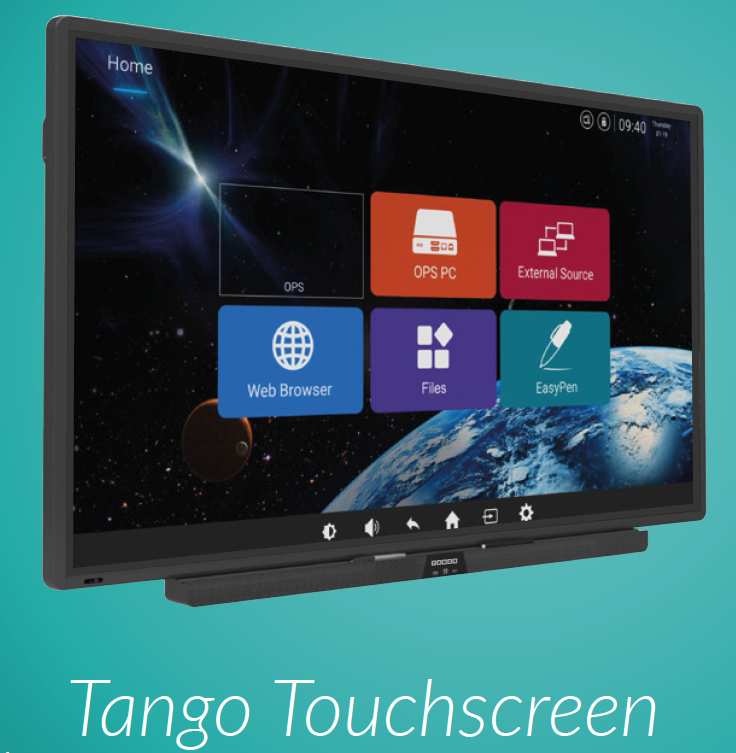 Overview
These interactive touchscreens put you in complete control of your lesson or presentation. The screens are equipped with highly accurate, multi-touch sensor technology that allows multiple users to interact with the screens simultaneously.
Tango touchscreens can be operated using your finger or a stylus. What's more, the 4K Ultra HD image quality will ensure that your presentations truly wow your audience.
The Tango Touch series is a high performance display screen designed for normal everyday use in schools, colleges and offices.
The new Tango Touch range offers exceptional features, functionality and performance at an amazing price.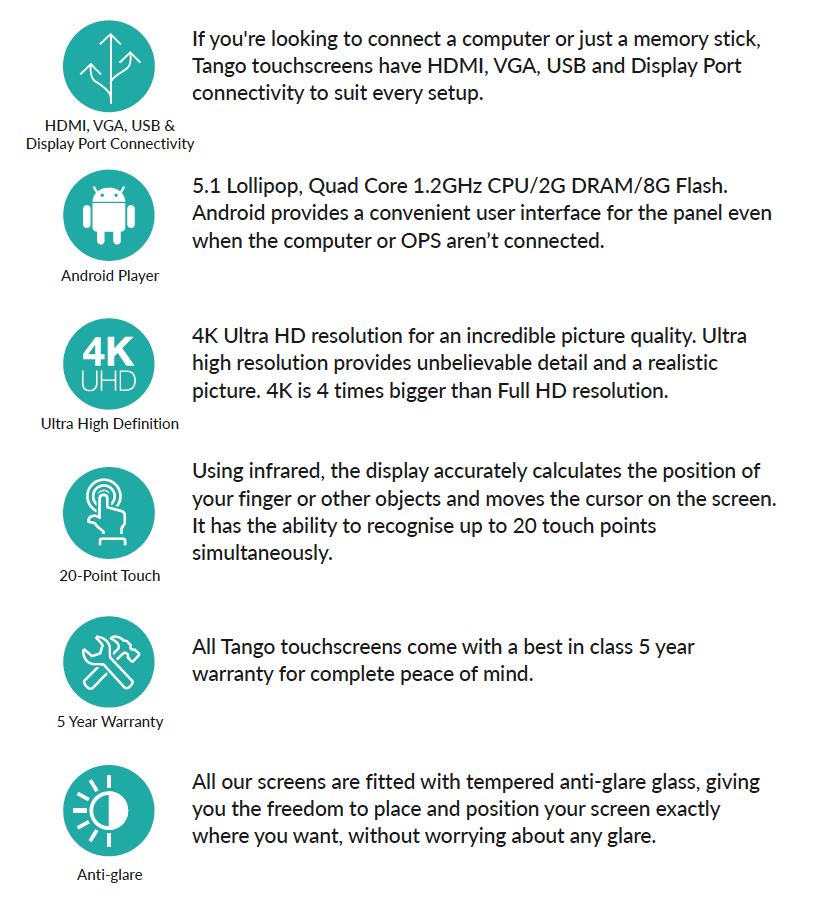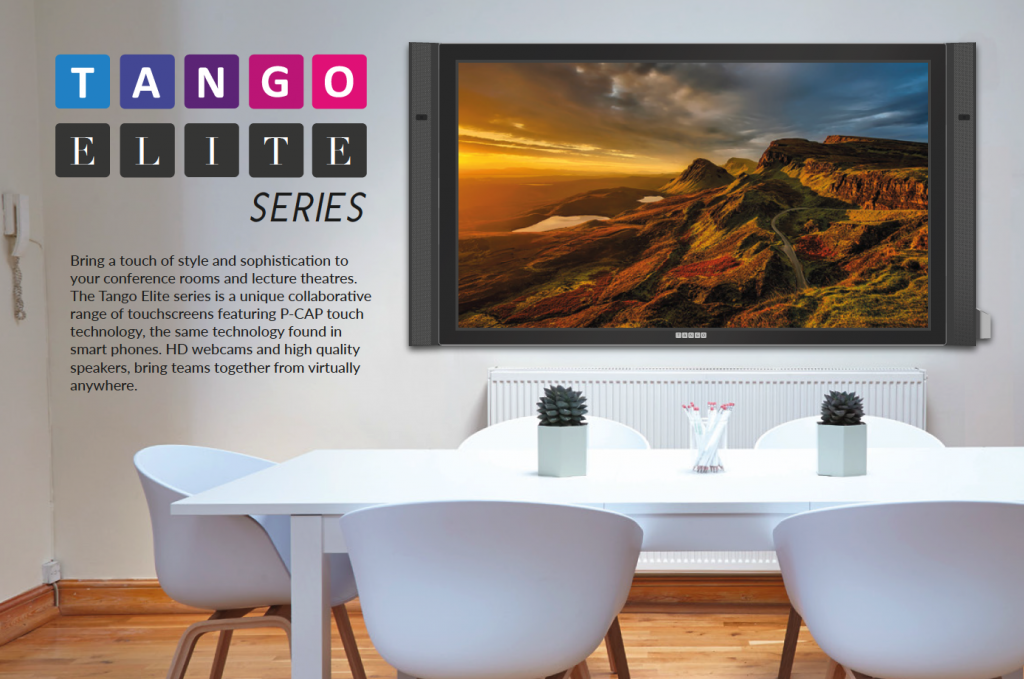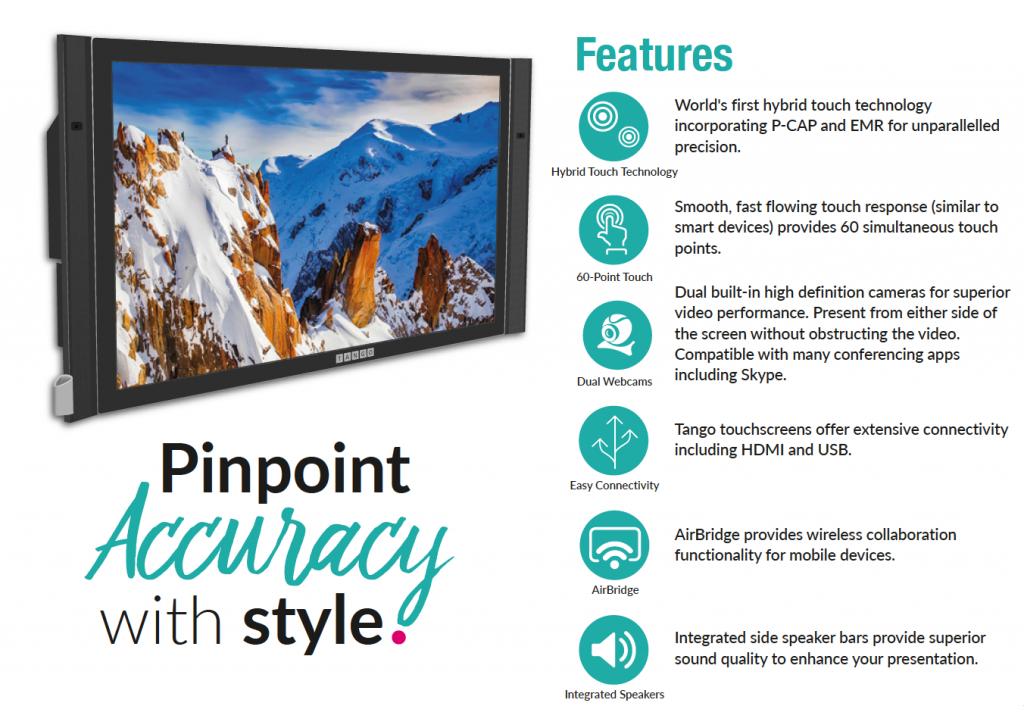 Software to help Reach your Audience
We believe that what's on the inside matters as much as what's on the outside. That's why we have the perfect software solutions to integrate with all of the Tango interactive displays.
Whether you're using your screen for business, education, sports or any other purpose, our range of Tango software is sure to fulfill your requirements.
Reach out to your audience with Tango Teach, Tango Elite, Tango Sports, Tango Safety or Wordwall.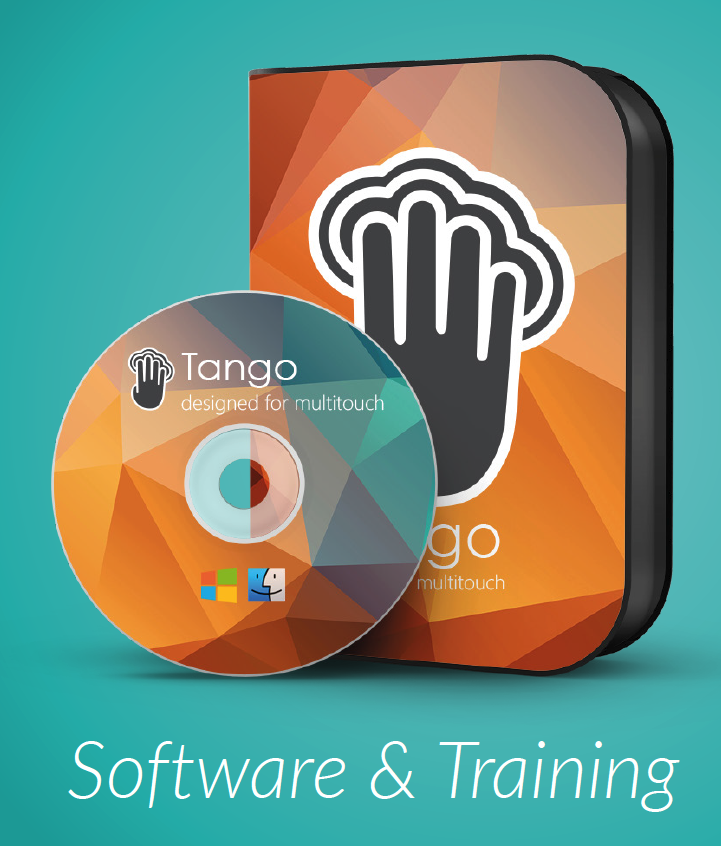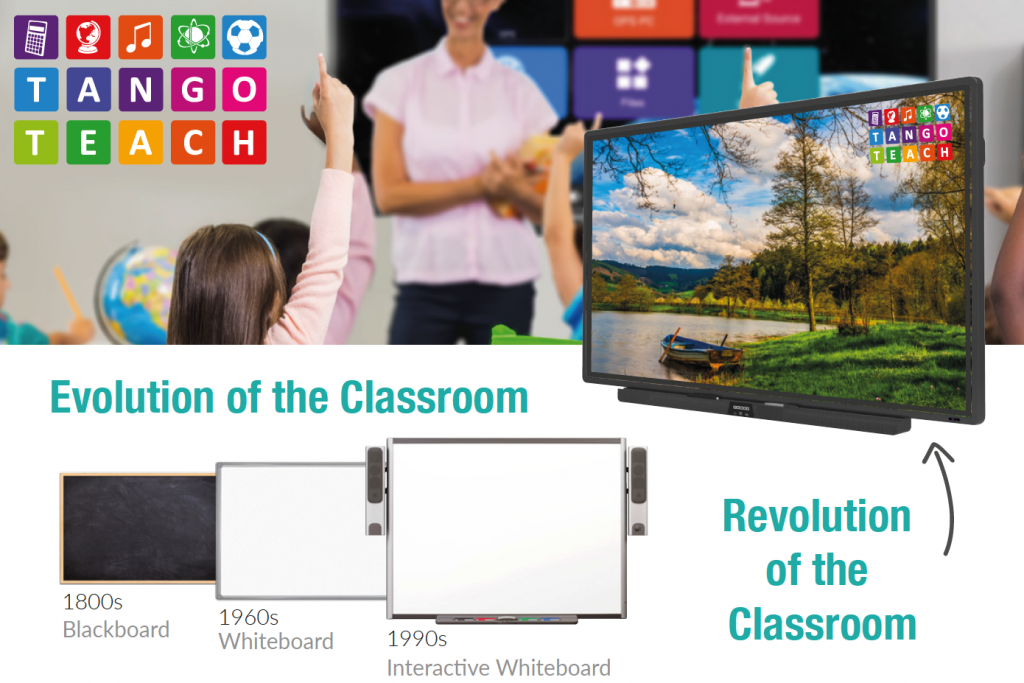 What is it?
Tango Teach is a multi-touch resource hub which allows you to bring a range of files together on to one page. Whether it is a JPEG, Powerpoint presentation, interactive maps or other media. Unlock the potential of Tango touchscreens with Tango Teach. There is no longer the need to switch between applications, with everything at your fingertips.
Intuitive and designed to simplify the use of digital teaching resources. Tango Teach provides the easy way to create, group and store media and then deliver it to your class in a matter of seconds.
As Tango Teach was designed specifically for use with large format LED touchscreens, it means no more fiddly buttons, toolbars or menus. Simply use the screen as you would do a tablet, smart phone or any other multi-touch device to 'pinch and grab', resize, rotate and annotate.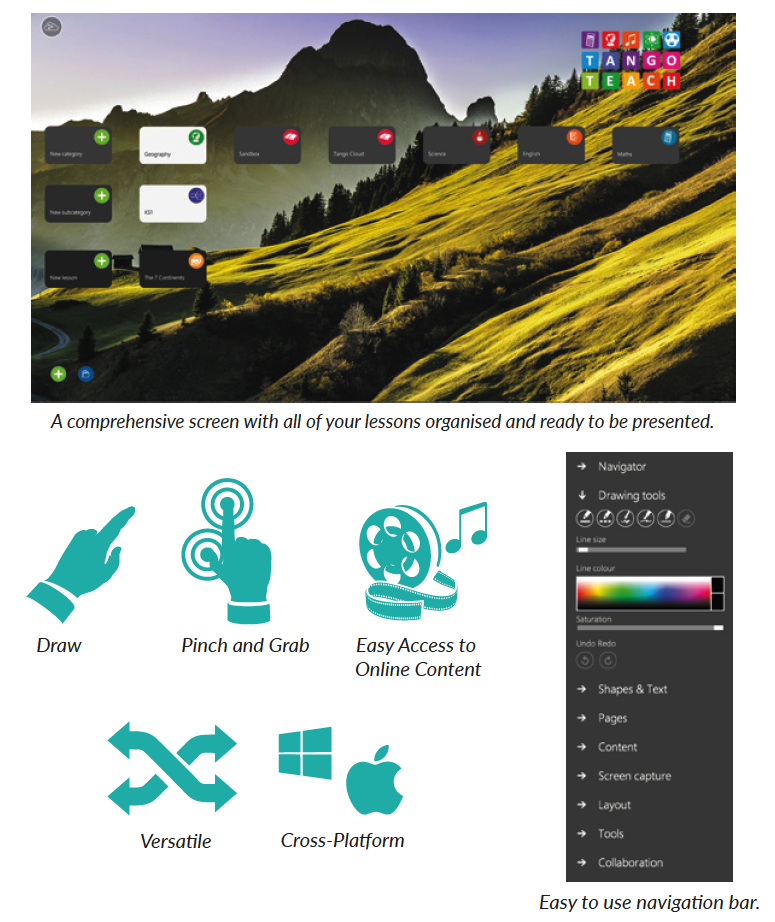 Meetings Redefined
The Tango touchscreen is an asset in every setting it is used and with that in mind we have created Tango Elite. The software solution that enables you to make the most of your presentations, meetings and general corporate planning.
Similar to Tango Teach, Tango Elite allows you to bring content from the web and your own content in a user interface which is familiar to your own smart devices. Boasting the same easy to use interface, Tango Elite is efficient and effective, saving time on prep work for your next meeting.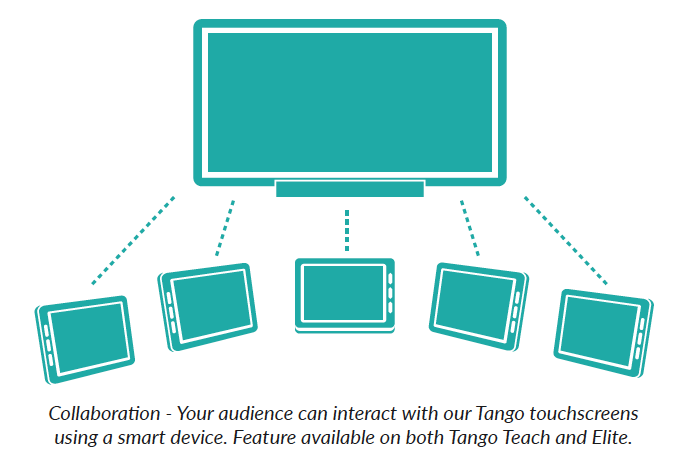 Up Your Game
Enabling the use of multi-touch screen technology in sports analysis, Tango Sports has been designed to transform tactical meetings for coaching staff and players. Whether you need it for a local school team or for a professional sports team, Tango Sports is perfect for pre-match, half time and post game tactical planning and review.
Watch the science of sports come alive on your Tango touchscreen with Tango Sports.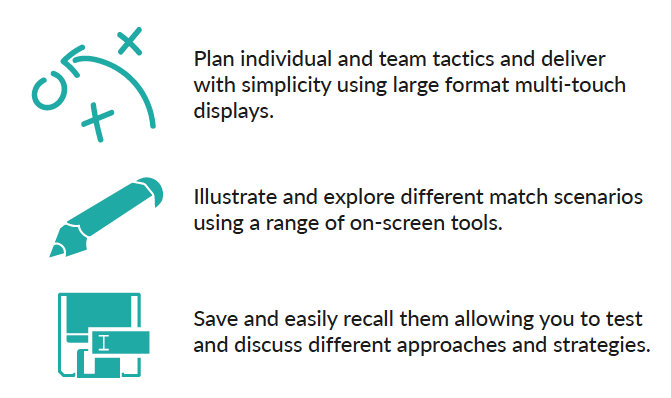 Your Safety at Heart
Tango Safety makes your safety planning interactive. Create scenarios using the vast gallery containing scenery, safety and emergency related images.
Tango Safety opens up so many avenues that can be explored, with far reaching capabilities for numerous departments across the organisation. Future-proof  yourself for training in the classroom, meetings and presentations.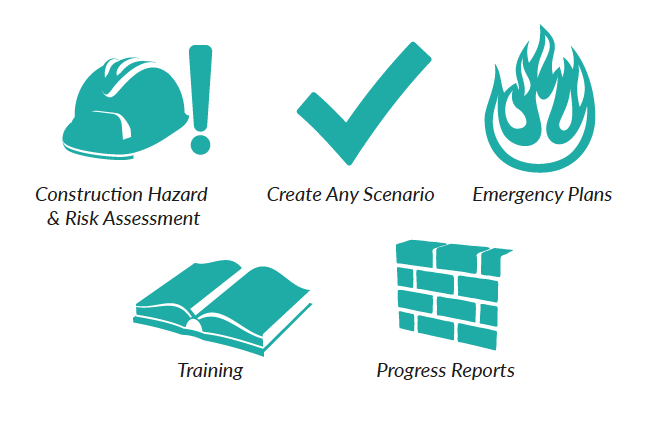 Contact us for more information or to arrange an on-site demonstration
Telephone: 0161 960 0371